How To Install - Shutters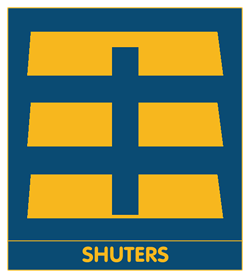 ---
Before you start you need:
Spirit Level
Drill
Hammer
Screw driver
Plastic packers
You will receive your shutter in two boxes, one is the frame and one is with panels (you may have two or more panel boxes for wider windows)
Please Note: Wall/window fittings will not be included as you need to purchase fittings that suit the material you are fitting your shutter in eg. timber, brick, tiles etc.
Before you start opening boxes read the labels and take the boxes into the rooms, and unpack them next to the window. It is also recommended to open one box at the time, so panels don't get mixed up
Start with opening your frame box with a sharp knife being careful not to cut deep and damage the content
Take the frame pieces and lay them on the floor front side facing up. Make sure you check the marks at the end of each side (T-Top, B-Bottom, L-Left, R-Right)
Connect four corners using Hoffman key
You may pre-drill pilot holes through frame sides or you may use self-drilling screws
Place the shutter frame into the window recess
Make sure the frame is square using spirit level and put some packers if needed
Fix the frame to the wall or the window frame using screws
Panels will also be marked with numbers starting from left to right
Remove the hinge pin attach the panel to the frame and drop the pin back in once frame and panels are in place
If panels are not in perfect position you can adjust them by loosening the screw in the oval shaped hole on the hinge or putting provided packers under the hinge
If desired or necessary, fill the holes between the frame and wall with the gap filler for professional finish.